Our Namesake, Joseph J. Greenberg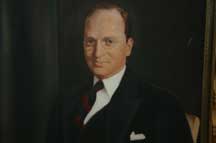 Joseph J. Greenberg
Joseph J. Greenberg, a Philadelphia Real Estate Developer, builder and broker for more than fifty years, was a member of the Board of Public Education for twenty years. He was a former president of the Board of Realtors of Philadelphia, and his experience contributed much to the deep insights that were evident in his capacity as chairman of the subcommittee on school construction and site selection. Mr. Greenberg was born in Baltimore, Maryland on September 28, 1883, and attended the public schools there. He also attended the City College of Baltimore.
During the First World War, Mr. Greenberg served under Assistant Secretary of the Navy, Franklin D. Roosevelt, in the building of naval facilities in and around Philadelphia.
His deep concern for teachers and pupils was always so evident in the decisions he made concerning the welfare of the public schools of our city. Upon the death of Mr. Greenberg on June 16, 1963, at the age of seventy-nine years, the Board of Public Education lost a most dedicated public servant.